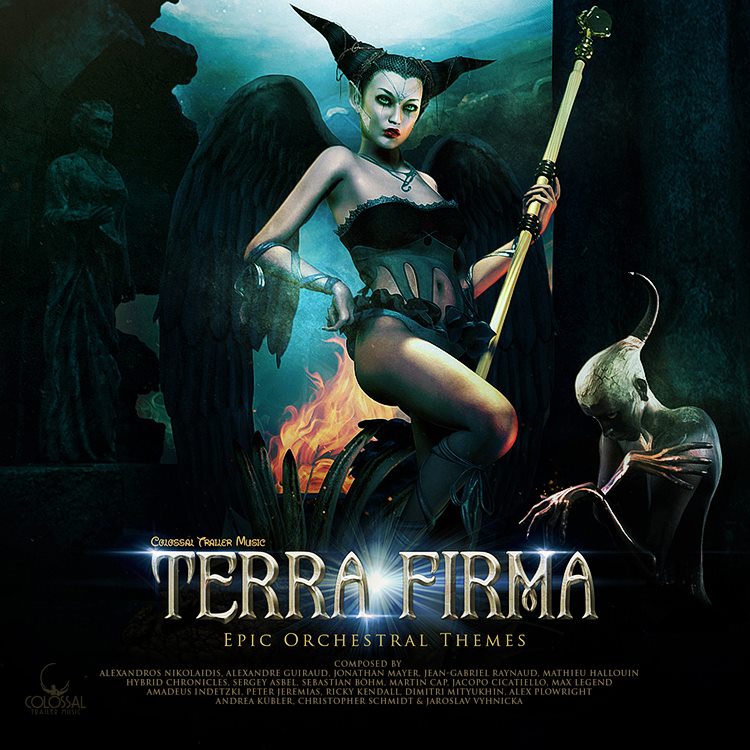 Colossal Trailer Music: 'Terra Firma' and 'Apocalyptica'
Terra Firma and Apocalyptica are the latest industry releases from Colossal Trailer Music. They will be released to the public in a few months.
Terra Firma consists of heroic, epic and emotional music,  with "dark triumphant apocalyptic choir themes, cinematic strings and victorious brass arrangements with melancholy yet hopeful and sparse piano openings and powerful apocalyptic heroic sound design endings".
The artwork was made by Ryo Ishido. The album features composers Alexandros Nikolaidis, Alexandre Guiraud, Jonathan Mayer, Jean-Gabriel Raynaud, Mathieu Hallouin, Hybrid Chronicles, Sergey Asbel, Hybrid Chronicles, Sebastian Böhm, Martin Cap, Jacopo Cicatiello, Max Legend, Amadeus Indetzki, Peter Jeremias, Ricky Kendall, Dmitriy Mityukhin, Alex Plowright, Andreas Kübler, Christopher Schmidt, and Jaroslav Vyhnička.
Apocalyptica
Apocalyptica features epic ethnic music inspired by the jungle – which, without surprise, would perfectly suit the advertising campaigns for The Jungle Book. Apocalyptica is a "dark and dramatic, brooding orchestral jungle album with heavy intense percussion, ethnic vocals and flutes, ominous chants, cinematic strings and victorious brass and choir arrangements with powerful apocalyptic heroic finales".
The album was composed by Daniel Markovich, Brian Rivlin, Dylan C. Jones, Jesus Martin, Alexandre Guiraud, The Little Orchestra, Max Legend, Alexander David Norman, C. M. Dess, Hermien JD, Peter Jeremias and Alexander Plowright. The artwork was made by Ryo Ishido.
The next opus will be Amazonia, consisting of "vibrant orchestral jungle themes" composed by Torsti Spoof.

These albums are currently not available to the public for purchase. For licensing information, contact Colossal Trailer Music.