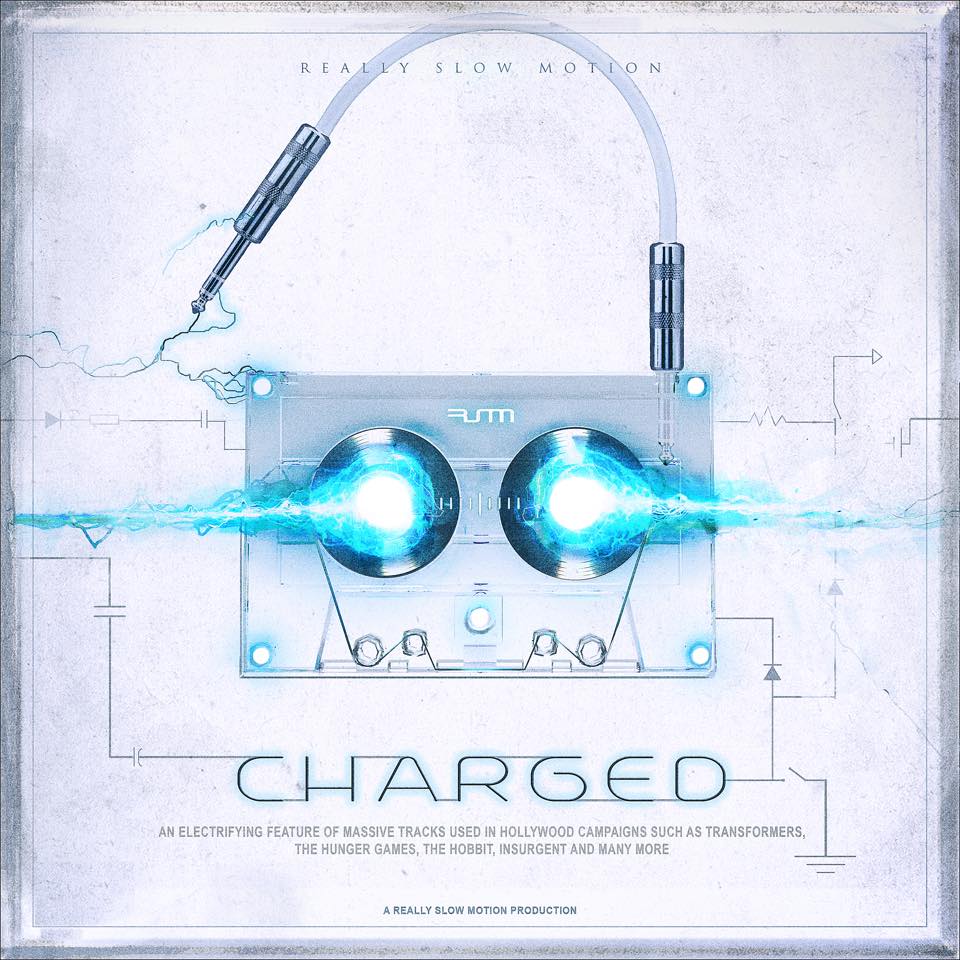 Really Slow Motion's New Public Releases
Following the requests from fans, Really Slow Motion recently released two albums to the public – Charged, a compilation, and Iron Poetry, an album initially released to professionals in 2014.
Charged
Released in April,  Charged is a compilation of some of Really Slow Motion's most popular tracks, and represents the company's third release, after Of Mist And Magic and Fiery The Angels Rose.
This new opus focuses on "massive, energetic and modern trailer music". It is the first public compilation to includes tracks from Really Slow Motion's label Giantapes, particularly from the album Exitium. The tracks have been used in various movie and video game advertising campaigns such as Transformers, Hunger Games, The Hobbit, Divergent 2: Insurgent and many more. The artwork was made by Walid Feghali.
Tracklist
01. Charged
02. Desolation
03. The Wild Card
04. Faux Power
05. Evolution
06. Fight For Humanity
07. Legacy of Six
08. Entity
09. Sound The Alarm
10. Red Sun
11. Necessary Violence
12. MK Ultra
13. Neutral Assault
14. Jaeger
15. Worlds Collide
16. Pillars of Resurrection
17. Optocell
18. Vengeance
19. Mercury Rises
20. Cronos
21. Intelligence Leak
Charged is available to the public for purchase through iTunes, Amazon and Bandcamp.
Iron Poetry
Following many requests from fans, Really Slow Motion also made their album Iron Poetry available to the public in June. Released to professionals a year before, this album offers epic and emotional orchestral music.
Iron Poetry was the company's second industry release, following the successful Cosmogeny. With good builds up, interesting climaxes, powerful percussion and some very emotionally intense moments, Iron Poetry delivers compelling music (written by Lorne Balfe, Jochen Flach, Todd Burns, Martyn Corbet, Ivan Torrent, Christoph Allerstorfer and Michael Maas from Black Phoenix Music, Piotr Adamski, Henri Vartio, Fran Soto, Audio Android, Valentin Boomes, Michael Newport, Irving Victoria, Blake Robinson, Mateo Pascual, and Cesc Vila Aulina), and features female vocalists Kate St. Pierre and Aeralie Brighton.
The album was recorded live at Estudis 44.1 with GIOrchestra and the cover artwork was made by Ryo Ishido.
Iron Poetry is available to the public for purchase through iTunes, Amazon and Bandcamp.

For licensing information, contact Really Slow Motion.