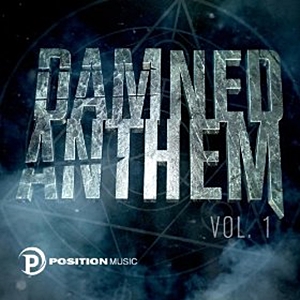 Position Music: Damned Anthem & Dark Walk
Position Music just released Damned Anthem and Dark Walk, two aggressive, dark and powerful albums, that are both part of the Production Music library.
Damned Anthem features hard-hitting hybrid electronic/orchestral music… complemented with apocalyptic guitars!
"Aggressive guitar, electronic, orchestra = BALLSY"... says Position Music.
The album was composed by Adam A. Dearborn and James R. Norman.
Dark Walk, composed by Todd Haberman, Daniel Law Heath, Zachary Meyers,Tony Fiala and Aaron Kaplan, is also filled with adrenaline. It offers rather similar music – dark, aggressive, driving and modern!

These albums are available to the public for purchase through iTunes and Amazon. For licensing information, visit the Position Music website.