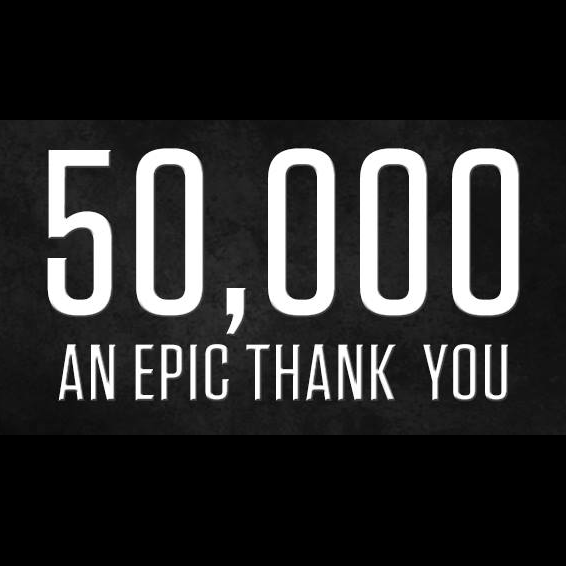 audiomachine Celebrates 50,000 Fans on Facebook
Audiomachine just reached the huge number of 50,000 fans on Facebook. To celebrate this epic event and thank their fans for their unfailing support over the years, audiomachine made an exciting free downloadable compilation of some of their most popular tracks, never before released to the public.
"Well Machine Heads… you all truly are the best fans out there", says audiomachine on Facebook. "We wanted to do something special to show our appreciation for the likes, follows, streams, subscriptions, and positive feedback you give us on a daily basis. So… in honor of reaching 50,000 likes, we are releasing a downloadable fan appreciation compilation that includes 14 of our most requested songs that aren't yet commercially available. Tell your friends. We want everyone to grab this free download. The page will only be live for 7 days. What are you waiting for?" They conclude with "An epic thank you from all of us at audiomachine" on their website!
Audiomachine has always well deserved our support, of course, and we are very glad to see that they have finally reached 50,000 fans on Facebook.
All the tracks featured in the compilation have been featured in numerous trailers, teasers or commercials; here's the tracklist:
1. "Siege Towers" – As featured in the STAR TREK: INTO DARKNESS Advertising Campaign
2. "No Return" – As featured in the UNSTOPPABLE Advertising Campaign
3. "Judge and Jury" – As featured in the PROMETHEUS and TRUE GRIT Advertising Campaigns
4. "Soeran Infertus" – As featured in the PIRATES OF THE CARIBBEAN: ON STRANGER TIDES Advertising Campaign
5. "The New World" – As featured in the HARRY POTTER & THE DEATHLY HALLOWS: PART TWO Advertising Campaign
6. "New Life" – As featured in the RISE OF THE PLANET OF THE APES Advertising Campaign
7. "Intrepid Souls" – As featured in THE KING'S SPEECH Advertising Campaign
8. "Being and Nothingness" – As featured in THE SORCERER'S APPRENTICE Advertising Campaign
9. "Brain Mismatch" – As featured in the I AM NUMBER FOUR Advertising Campaign
10. "Charging the Keep" – As featured in the IRON MAN 3 Advertising Campaign
11. "Conquer the Mountain" – As featured in the WARRIOR and PLANES Advertising Campaigns
12. "Morning Glory" – As featured in the LIFE OF PI and WALKING WITH DINOSAURS Advertising Campaigns
13. "Visions of Utopia" – As featured in the RED TAILS Advertising Campaign
14. "Guardians at the Gate [Access Denied Remix]" – As featured in a MERCEDES National Advertising Campaign

The compilation is only available for 7 days, from September 29 to October 5. Visit audiomachine's website for more information, or download the compilation directly here. Don't forget to spread the word, as a true "Machine Head"!