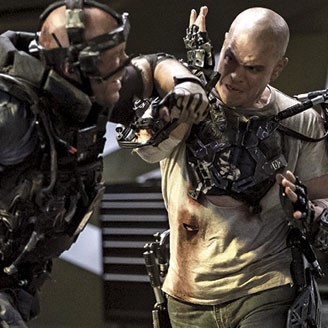 City of the Fallen Composer Ryan Amon Scores Elysium
The score of the last blockbuster of this summer is available for purchase. The epic music of Neill Blomkamp's sci-fi movie, Elysium, was released on iTunes and Amazon a few days ago.
The plot of the movie is set in a future where the poors are living on the wrecked Earth in misery, while the rich folks have a luxurious life on an orbital space station absolutely separated from the poverty. Hello, Brazil! The movie holds three surprises for the audience: the first is an almost bold, bad-ass Matt Demon in a sci-fi, the second is Judie Foster in a sci-fi in which the alien is not her father and the third is the score which was composed by Ryan Amon.
Ryan Amon founded City of the Fallen in 2009 which requires absolutely no introduction to any trailer music fan out there. Ever since he is a prominent figure on the trailer music scene. The remarkable violins and chants of Divine Power or the build ups and drums of In the beginning are going to resemble in our ears forever.
From this relative anonymity became Ryan the composer of Blomkamp's big budget movie to write the score for his first feature. How can this happen? Magic beans? No!  A YouTube video is enough.
"Someone had taken one of my tracks and posted it. Neill must have been searching through and found it somehow. And I got a one-line email: "Is this you?" I thought one of my friends was playing a prank on me. I've got very funny friends who have done things like that in the past. So I didn't think too much about it until his assistant Victoria followed up, and I thought, "This is real." Then I got nervous." (Source)
The result of the collaboration is an orchestral hybrid score which even feature the sounds of animals such as baboon calls, mosquitos buzzing and other wildlife. The album contains 29 epic tracks.
8Dio made an in-depth interview with the composer. Don't miss it!