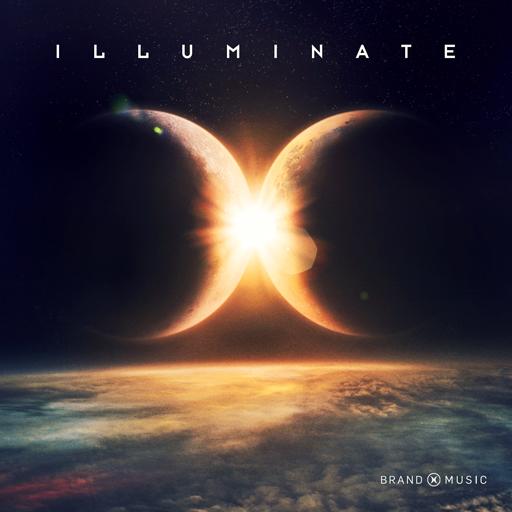 Brand X Music: Incubate, and Illuminate
Brand X Music recently released two brand new albums, Illuminate, and Incubate. No more new "Volumes" on the horizon! The company's new strategy is now to offer complete and comprehensive collections of tracks, along with new album names, and very cool covers.
And those aren't the only cool thing about these new albums – the music is, too! With Illuminate, Brand X Music manages to surprise us again and delivers a stunning collection of epic and dramatic cues.
"Rising from the ashes, taking flight, conquering apocalyptic doom and ultimately saving the world, an epic dedication to powerful heroic themes, sheer bravery and true triumph over evil", says Brand X Music. Illuminate includes dark, agressive tracks with heavy guitars, as well as emotional and heartbreaking pieces with breathtaking melodies.
Brand X Music co-operated with and singer and songwriter Aeone Watson (commonly known as her mononym Aeone), on two pieces on this album. Aeone, who has already contributed to several tracks for Music Junkies in the past, was both a subtile and brilliant addition to this album, bringing the tracks to the next level in terms of emotions and evocative power. The titles of the cues speak for themselves – "Illumination", "Dreaming"…
Illuminate also features composers Tom Gire, John Sponsler, Josh Lynch, Jochen Flach and Daniel Heath.

Incubate, on the other hand, is a disturbing album and features dark, hard-hitting and action-packed cues with excellent suspense.
"A disturbingly dark and dangerous collection of threatening themes, nail biting narrow escapes, bombastic brass blasts and pulse pounding percussion sure to soothe only the ears of the Grim Reaper"... Brand X Music says. 
Incubate was composed by Tom Gire, John Sponsler, Josh Lynch, Jochen Flach, Russell Bell and Jacob Shea.

Illuminate and Incubate are currently not available to the public for purchase. For licensing information, contact Brand X Music.