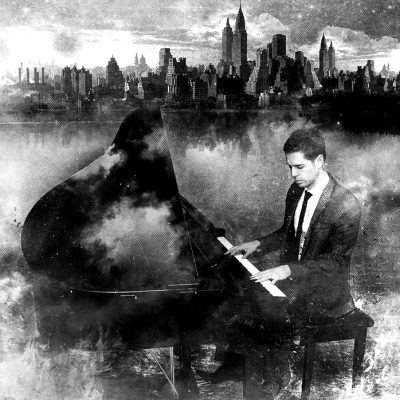 Interview with Chris Haigh
Chris Haigh is  a British composer known for his work with Gothic Storm, as well as other companies such as Immediate Music. His credits include movie trailers for The Host, The Flying Sword of Dragon Gate, Contraband, Rise of the Planet of the Apes, Unknown, and In Time; and TV trailers for series like Spartacus: War of the Damned and American Horror Story Asylum. 
Trailer Music News: Let's start with basic questions – when did you start to compose, and how did you get into trailer music?
Chris Haigh: I started composing professionally just over three years ago but I have been honing my craft for many years prior to that. I had studied music at college but had no real interest in composition until I heard Hans Zimmers score to Gladiator. Now I know this is slightly cliché but this was the score that really inspired me. I had been a fan and bought film soundtracks for years before I heard Gladiator, from composers like John Barry, Danny Elfman, James Horner, Basil Poledouris, etc. and even loved Hans Zimmer's earlier scores to films like Rain Man, Days of Thunder and Driving Miss Daisy. Gladiator was just the one that inspired me to want to compose. Also I was intrigued at how this score could make me go through every human emotion, from its beautiful ethereal themes to its dark, aggressive battle music, which set me out on a goal to hopefully make others feel as passionate when listening to my music as I felt when listening to that soundtrack.
I discovered that I really loved composing for media in whatever form that came in, which happened to be indie film scores. I started working with lots of indie and student directors all around the world and seemed to get constantly asked for that big cinematic Hollywood sound. This seemed to come very natural to me and I enjoyed doing big epic soundtracks.
I then got introduced to trailer music companies like Immediate Music and Two Steps From Hell and absolutely fell in love with how much energy and emotion could be crammed into such short pieces. How I got into trailer music as my job is answered in the next question… haha
TMN: Tell us a bit about your successful cooperation with Gothic Storm. How did you guys meet?
CH: Well it was pretty much by pure coincidence really. I had heard about Dan Graham from someone else in the industry and so basically checked out his music and added him on MySpace, but after adding Dan he emailed me and said that he had liked some of my music and thought it had a trailer quality to it. At that point Dan was just starting up Gothic Storm and asked me if I would like to write a few tracks for his first set of albums, which I jumped at the chance. Three years later we are still working pretty closely to make Gothic Storm as good as it can be. I believe sometimes you meet that one certain person in your career that changes your course forever. Dan is that person for me as he really took me under his wing and encouraged me and I don't think I would be doing what I'm doing today if Dan wouldn't have contacted me.
TMN: Do compose together or do you work separately?
CH: Up to now we have not composed together, but I always send rough demo's to Dan and he makes suggestions how I could improve them and sometimes he does the same with me. You never know we may collaborate on something in the future.
TMN: Besides Gothic Storm, you have also worked with Immediate Music. Was it an interesting experience?
CH: Yeah that was great! I have admired Immediate music for a while before I started writing trailer music and I never imagined for a moment that I would get to add to their amazing catalogue, let alone have my music recorded live in Prague by the Czech Philharmonic orchestra and choir for one of their albums. Yoav Goren is a really cool guy and is really knowledgeable and passionate about what he does and when we video chatted on Skype, discussing how my pieces could be made better it was very surreal and inspiring to watch him in his studio in L.A. as he sang along to my tracks playing in the background and making suggestions on where a brass line could come in etc. The track that was recorded live for the album Quantum sounds amazing and I can't wait till it can be released for the fans to hear.
TMN: Which other companies have you already worked for?
CH: The trailer music companies I have worked for so far are Gothic Storm, Immediate Music, Sonic Symphony, Cavendish Trailers, Twisted Jukebox and 1 Revolution Music.
TMN: Do you have a particular creative process?
CH: Well first of all there is the blind panic and self-doubt each time I start a new album, thinking: "How the hell do I do this in the deadline provided?" Then when I have calmed down and had a cup of tea, I start the process of figuring out what I want to do or achieve with each album/track. For example the process and my mind set for Epic Emotional Piano was very different to Massive Rocktronica. Epic Emotional Piano was a very personal album to me and I wanted to make it extremely melodically beautiful and while keeping it quite minimalistic, I wanted to give as much life, emotion and depth to each piece as I could, just using mainly piano and strings. Whereas Massive Rocktronica was a very aggressive, big and brutal album, utilizing rock guitars and electronica as the main sound palette.
My process either works one of two ways. I sit at my piano and play around until something great happens (which can take hours or if I'm lucky minutes) and then I develop the track from there. Or I have a very clear idea or melody that I have sang into my phone days or weeks previous and translate that to a finished piece.
When composing for live instruments which I always do for Gothic Storm albums, you also have to take into account the limitations of the performers for example, when composing the choir parts you have to realize the realistic limits of what notes they can comfortably reach without it hurting their throats or sounding scratchy and give them space to breath between phrases etc. When working with just synthetic VST's this is not something that has to come into your compositional process.
TMN: What is your favorite placement so far?
CH: I would definitely have to say my favorite placement so far has to be for the Justin Timberlake film In Time. The main reason for this is because it was the first trailer where I found myself sat in the cinema to watch a random movie and that trailer came on in all its glory. That has been one of my major ambitions in life to hear my music being play in a cinema for the trailer to a huge Hollywood film. Plus my track was featured in a lot of the TV spots and behind the scenes featurettes so again it was my first experience of watching TV at home and hearing my music over amazing visuals.
TMN: What do you think of the current trend of dubstep?
CH: At first I wasn't keen, but I have grown to quite like how dubstep and epic music can be mixed and I realize how effective it is for trailer editors to cut to. I personally don't think it will have the long life of say the classic orchestral/choral style but trends change all the time as just before dubstep kicked in the trend was and still is, the sound design tracks with the now quite cliché Inception "BRUUUUMM!" with not a lot of melody or harmonic textures.
TMN: Gothic Storm's new album, for which you composed several tracks, is entitled "Epicstep". What does it sound like?
CH: Well I really have to give all the credit to the amazing Audio Android and Matt Welch who remixed my orchestral and choral tracks into huge waves of dubstep/brostep, (now known as EpicStep). Also most of the tracks on this album were composed by the extremely talented Rob Oxenbridge.
The album sounds very fresh and is mind blowing how audio can be twisted and distorted to create these masterpieces.
Here is the demo reel for Epicstep:
TMN: Do you have particular plans for the future?
CH: Well I'm sure I will continue to work with Gothic Storm for many years to come as I have so much invested and I want to see it grow and become the best it can be, which I have no doubt of with Dan at the helm. I would also like to continue to work with other trailer libraries in the future.
I may look into starting my own trailer library at some point but I feel there are so many coming out of the wood work at the moment that I wouldn't want to enter that arena unless I could offer something different. Other than that I'm very humble to do what I love for my living and if I can continue to do that I will be a very happy man.
TMN: Anything else you would like to share with us?
CH: I would just like to thank all the fans of this type of music for the great support. It is great that all these talented composers of trailer music of whom would be nameless, now have an audience and a fan base. It also makes all the hard work and late nights worthwhile when the music you create is appreciated by fans and listened to and enjoyed as standalone pieces of music is amazing. So thank you to all the people who support trailer music and sites like TMN that promotes it.
TMN: Thank you Chris. Keep up the great work!
---
Feel free to follow Chris Haigh on Facebook, Twitter, Youtube and SoundCloud, and visit his website as well as the Gothic Storm website.

Several albums from Gothic Storm are available to the public for purchase, through iTunes. For licensing information, contact Chris Haigh.