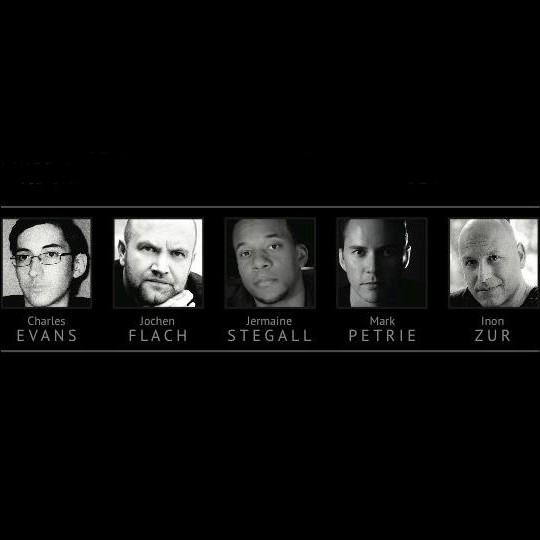 Heroes: Interview with the composers
Read an interview with the talented composers of Fired Earth Music's latest release, Heroes – Mark Petrie, Inon Zur, Jermaine Stegall, Charles Evans and Jochen Flach.

Charles Evans
I'm a huge fan of the trailer music genre, so I jumped at the chance to work with Fired Earth Music because they are known for working with some of the best composers in the business and always have the best productions values. I worked closely with Hannah and Sara to make sure that both sonically and emotionally the cues that I wrote deliver maximum impact. It was also great knowing that the tracks would be recorded with live musicians, which brought their sound to a whole new level. I think "The Sorcerer" in particular really sounds great with the live players, who really give it a degree of expressiveness that I find quite compelling. The tracks would fit well with movies in the superhero/action genre, including anything in the Marvel universe. Sometimes the tracks take a darker tone, like you might expect from a film like 300.
Inon Zur
On inspiration for "Wrath of the Universe": I feel that you always need to drive a trailer to the maximum emotional peak and there are few ways to approach this. In this trailer I thought that creating the theme that is recognizable and memorable can provide a solid connection of the viewer to the trailer – and creating this kind of connection is what we are looking for in order to draw the viewers to the actual movie or TV show that the trailer is advertising. Memorable themes that can evoke emotions are very powerful tools when it comes to advertisements because they create a brand that later on can be used again and again in many versions, still getting the viewer, who is already familiar with the theme, to be fully connected and engaged. I think the track ("Wrath of the Universe") can work really well with any superhero that has some kind of dark military inclination like Batman or Avengers, but it can also work as well with many action dramas like the Bourne movies. It also can work with more realistic modern war movies. I think the fact that it starts suspenseful and only after a while turns into action can really open the possibilities for where this trailer can fit.
On working with Fired Earth Music: I think that Fired Earth Music is besting itself with the total desire to perfection in quality and great production. Sara was so specific in her comments and it really assured me that she knows EXACTLY what she wants and knows what works best for the project. For me, as the composer, it is very reassuring that the company will do the best job with my work and maximise its potential. This is really appealing to me, because it shows the seriousness and level of professionalism that this company is committed to. It will get the best out of the composer and help him or her to rise to a very high level of creativity that can go a long way.
On the future: Very exciting. Starting to be engaged now in several new projects that I cannot speak about yet, but these are very high profile and I'm really excited about them. I'm looking forward to continuing my collaboration with Fired Earth Music. I feel very fortunate to share my work with them and their audience!
Jermaine Stegall
My brief was for an epic-sounding superhero vibe with an emphasis on the orchestra more than the synth side of it.
On Fired Earth Music:I felt like they were constantly pushing me to get the best tracks possible for the album. It's the first album I've collaborated on with them and I got the sense that they were very comfortable with asking for exactly what they wanted and what they knew worked well.
On "Worlds Collide": I'm hoping this could actually work well for the new re-boot of Superman Man of Steel, or even a teaser for the next Avenger movie or even Captain America's trailer. I think it has an Americana vibe harmonically speaking.
On the trailer formula: What normally happens is that you introduce the world you're going to, then give part of the story and amp up the energy, then a big conclusive ending with a lot of energy that hopefully makes people want to see the movie without giving too much away.
On 2013: I can't say exactly which films since many are in talks but the majority of my work is normally done in feature film scoring. I hope to do more trailer work alongside those projects.
Jochen Flach
On "The Ultimate Frontier": In my discussions with Sara (Sara Gilchrist, Producer and Mix Engineer) about the style of the album I heard that clients of Fired Earth Music had often asked for strong, fantasy adventure cues that don't sound 'piratey', which was actually really challenging. But after diving into the style and finding the appropriate rhythm and the string-driven themes composing this track was real fun. I really do hope that this track will find the love it deserves.
On Fired Earth Music: You know, as a freelance composer, you always have to observe the market. I'm always watching the newest trailers for upcoming movies in order to never miss new trends and to keep an eye on the companies who are producing the music for these trailers. What I love about Fired Earth Music is the fact that they produce live recordings of the orchestra, so everything sounds more vivid.
On the creative process: The creative process itself is basically developing ideas that fit the brief very well and are inspired by appropriate moods – often influenced by diverse movie soundtracks. These ideas are produced into a nearly finished track which I then send to Sara, and after sometimes more, sometimes less feedback-rounds, the writing of the track is finished and the orchestral elements are recorded.
On the magic trailer formula: Trailer music is always changing. Some years ago the magic formula was to have an interesting beginning, a memorable main-section and a huge climactic ending. Nowadays trailer music is more built out of one great theme or motif that you are constantly building up, adding stuff and putting everything together in the climactic ending. The three-divided world can still exist, but all parts are connected to each other, promoting one element of the theme/motif after another.
On the future: I hope to develop all of my skills one step further and to write even more interesting tracks for more cool companies. Maybe there will be some time to take care for developing my own career in new directions, maybe more towards soundtracks for movies. I'm prepared and open for projects to come. There will definitely be a real orchestra album next year which I'll write with a composer friend of mine and I hope that all the work that I did in the last two years will pay off in a lot of usages.
Mark Petrie
On Fired Earth Music's brief: My brief for this album was to create brooding tracks with a sense of momentum and building to an epic climax, primarily aimed at trailers and promos. The brief called for merging the epic sound of orchestral trailer music with modern hybrid elements like guitar, synth and sound design.
On working with Fired Earth Music: What appealed to me about working with Fired Earth Music was that they were really open to new ideas, allowing me to break out of the typical trailer music formula. It was a real treat having so much creative room to stretch my writing and production 'chops'.
On writing the iconic "Infinite, Immortal": I started with the chord progression, as I wanted to craft the track so that it had room for the big drops that you hear in the final big section. That way I'd be able to show a stark contrast between big solid chords and the intricate patterns that would be underneath them. The heroic melody pretty much wrote itself once the chords were established, and then it was just a matter of weaving the various layers of rhythmic strings and brass, which provided the sense of propulsion I was seeking. Composition on these hybrid tracks is about 20% of the job, the other 80% of the time was spent arranging all the percussion, synth and guitar parts, and putting together a rough mix that balanced those elements with the orchestral instruments.
On the production process: After writing the music, and a series of revisions, I then handed the midi files to the orchestrator. Live strings and brass were recorded and added to the synth tracks I had programmed. When it came time for the final mix, I very much appreciated having a role to play, as these hybrid tracks relied heavily on a 'sound' that I had sculpted while programming all the parts. I had a few minor suggestions, which were taken on board. Overall I was really satisfied and thrilled with how it all came together!
On 2013: There are some film and game projects that I'm in talks to be working on. Currently I'm working on more epic music that will be released in the first quarter, and because I love doing this music so much, I'll probably have lots more coming out later in the year as well! I relish the opportunities to record with live orchestra, and I hope to head more in that direction.
---

Heroes is available to the public for purchase through iTunes. For licensing information, visit the Fired Earth Music website.