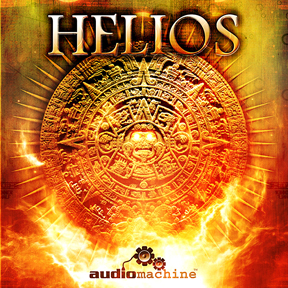 Helios from audiomachine Now Available to the Public
Helios, one of audiomachine's latest albums, released earlier this year to movie advertising clients, is now available to the public as well. It is audiomachine's third public release, after Chronicles, a compilation, and Epica, originally an industry release just like Helios.
Helios is in the tradition of audiomachine's previous epic releases such as Epica, Terminus and, of course, the Platinum Series.
Like Epica, Helios was entirely composed by Paul Dinletir. The album was recorded in the famous Air Lyndhurst Studios, London, with 80 voice choir, 90 piece symphony and 5 percussionists. "Paul Dinletir raises the bar yet again on this exceptionally cohesive 13 track effort showcasing his latest epic masterpieces for motion picture advertising", audiomachine explains. "A first for audiomachine, Dinletir traveled to London to record the massive 175 piece orchestra and choir at legendary Air Lyndhurst studios to come up with he calls "his musical statement." Dinletir adds, "Growing up listening to film scores, I dreamed of being able to do something on this scale. It was definitely a bucket list type of experience for me. I'm really excited for this music to get out there and to see how people interpret it and connect to it in their own way." With tracks from Helios already showcased in high profile feature film trailers for Life of Pi and The Hobbit as well as the new video game campaign for Assassin's Creed III, Dinletir is optimistic he'll be recording future projects with the incredibly talented musicians in London."
You can indeed hear a small excerpt of "Sirens of Hyperion" at the beginning of The Hobbit trailer #2. The company is actually so enthusiastic about this placement that they decided to offer the cue for free download, for a limited time. You can get it on CDBaby.
Here is some footage of the recording sessions at Air Lyndhurst Studios in London, in April 2012:
Greg Townley, who produced the album along with Paul Dinletir, shared his experience on his blog: "Paul was very pleased with his writing, which is unbelievably fantastic, and he told me before the mix he wanted to 'hear' the orchestra. So I chose to look at this project as a "cinematic approach to a trailer mentality." That means letting the pieces breathe rather than smashing them to oblivion; letting the dynamic range of this magnificent orchestra speak for itself."
The result speaks for itself. Helios sounds fantastic. Let's take "Four Horsemen": a dark, epic and intense cue, with an amazing sound – deep, realistic, powerful. Another striking example is "The Odyssey". The first part of the track, rich and complex, has a dramatic, almost psychedelic atmosphere, with a very interesting build-up.
You may also enjoy a lot pieces such as "Land of Shadows", which offers a nice and moving melody, with the traditional combination of orchestra and choir. "Requiem of the Night", on the other hand, contains a rather sad, but beautiful melody. However, the most poignant track is probably the melancholic "Farewell to Earth", with a superb choir and sad violins. On a happier note, "Rising Dawn" may remind you of the famous "Reaching" from Platinum Series IV: Labyrinth, thanks to its positive and uplifting tune as well as its excellent build-up. Finally, don't miss the great "Sol Invinctus":
The album artwork was made by DOSEprod.

Helios is available to the public for purchase in digital format through iTunes, Amazon and CDBaby, and as physical CD via Amazon and CDBaby.