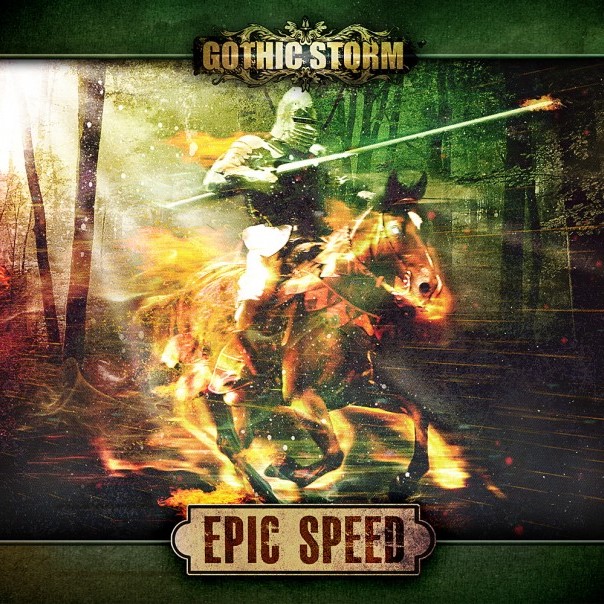 Epic Speed: Interview with Dan Graham and Chris Haigh
Read an interview with two of the Gothic Storm composers – Dan Graham and Chris Haigh – that the company recently published on Facebook, for the release of the Epic Speed albums.
Courtesy of Gothic Storm.
Hello! Tell us about this 3 album set.
Chris: Well basically they were all based around the concept of speed (hence the title). One being Epic Speed, the second Epic Speed Metal and then the third of the series being Epic Speed percussion. So these tracks had to work perfectly with fast paced action/chase type scenarios be it superhero, aliens or modern day chases. I believe that was the starting point then it was a case of letting my imagination take it from there. The problem you face with writing fast paced action style music is that sometimes melody and themes can get lost in the rhythmical intensity of the strings and percussion, but I wanted to make sure I didn't lose those element just because the crazy tempo the tracks where being composed in.
Dan: Yep – speed! That means adrenaline, intensity, chases and pursuits. Similarly to other Gothic Storm albums we have the same live strings and choir themes interpreted in different genres for different albums – this time epic orchestral (Epic Speed album) and rock/metal (Epic Speed Metal album). In other words, if you listen carefully you will hear the same underlying themes on both albums even though they sound very different.
What is your favorite track on each of the 3 albums and why?
Chris: My favourite track on Epic Speed I think has to be "Resist Extinction" because I love how it has this real dark tension yet somehow heroic feel, as though someone is coming back from the brink to kick some ass. Then it really kicks in with a relentless rhythm from the percussion, choir and strings, while the brass really sores with the theme. On the Epic Speed Metal I think it has to be "Firestorm" just because it is such an energetic, intense and cinematic track that with the huge theme that runs through the cue, it really brings visions of superhero aerial battles. On Epic Speed Percussion it has to be the opening track "Destruction Unleashed" just because of it's raw, devastating and unrelenting power that keeps building throughout the cue.
Dan: My personal favourite is "Emotional Pursuit" on Epic Speed, because it's trying to do something difficult by marrying a slow emotional theme to super speed high intensity percussion. I wanted a track where you think of Bruce Willis in tears, running to save his loved ones. On the metal album my favourite is "Epic Story", a metal/rock version of the same track. On the percussion album my favourite is a weird choice – "Last Exit Whoosh Slam" – not a percussion track but one of the 26 slams at the end of the album. I just got this amazing sound design noise which amuses me on a simple level. 🙂
How were they recorded?
Chris: Well from my part after the tracks have been composed and approved, I then have to score what I have composed for the string players and choir. These scores are then recorded at Parr Street Studios in Liverpool, with the amazing musicians of the Liverpool Philharmonic and choir. After the live elements have been recorded the audio is then sent back to me to integrate with my sessions where I add synthetic elements to the live recording like orchestra and percussion to finish the track. The final stage is mixing the tracks then sending them off for mastering.
Dan: Yep, just like Chris says – scored, recorded with live strings and choir then sampled stuff added. The players are amazing sight readers and there's always an excellent working atmosphere in the studio – very professional but lots of laughs.
How are things going generally and what projects are coming up for 2013?
Chris: Things are going really great as I have had my music used on lots of TV shows in 2012 plus I have had four major Hollywood trailer placements this year as well as scoring the season promo music for the LA Lakers on KCAL 9 in the US. I plan to keep working very closely with Gothic Storm in 2013 to keep the catalogue growing and continue to write premium trailer music that has come to be expected from the label.
Dan: As the founder of Gothic Storm I can report that things are going very well – uses gradually building worldwide (thanks to all the excellent sub-publishers that market our music), and picking up some great Hollywood trailer placements thanks to the superstar team at 5 Alarm who represent Gothic Storm in the US and promote the music directly to trailer editors. This is a relief because the premium budget live recordings have been a big investment which is finally starting to pay off. In 2013 we have an album due, EpicStep, sitting at the nexus of dubstep, drum step, drum n bass and industrial music. It's a new genre! We also have some sound design albums with slams and minimal underscores, then a new set of premium live recording-based albums due later in the year. Lots going on and plenty to do!
---
UPDATE – December 15, 2013: An Epic Speed compilation is now available to the public for purchase through iTunes and Amazon.