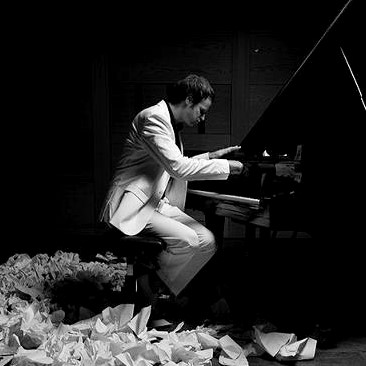 Interview with Jo Blankenburg
Composer Jo Blankenburg is about to release a second album through Position Music. Entitled Elysium, this highly-anticipated album, following the successful Vendetta, will be released on July, 31st. Elysium was recorded in Zlin, Czech Republic, with Capellen Orchestra & Choir.
Trailer Music News: When and why did you start to compose?
Jo Blankenburg: It was back in 1997 when I discovered my interest for writing music. I was trained as an organist and learned to play the piano when I was a kid but never really enjoyed interpreting other people's music. One of my music teachers in high school got me into jazz and I learned the art of piano improvisation. Years later I got interested in synthesizers and electronic music in general. It wasn't long before I put my own little recording studio together and programmed beats and tweaked samples on analog samplers. Five years later my brother introduced me to a young filmmaker who was looking for a composer for his documentary. The director played me the score of Hans Zimmer's "The Last Samurai" and asked: "Can we do something in the vein of this?". Even though I knew who Hans Zimmer was around that time I had no idea on how to approach this. With a looming deadline, I listened to more film music and classical music and started learning about the orchestra, writing techniques, orchestration and so on – and I was hooked ever since. It became obvious to me that the orchestra is just pure magic and unique in its capabilities to evoke all kinds of emotions.
TMN: How did you get into trailer music?
JB: Back in 2008, Jeff Fayman and Yoav Goren from Immediate Music heard my music and offered their mentorship. I'm very thankful to Jeff and Yoav for introducing me to trailer music and for teaching me the ropes.
TMN: Where do you find your inspiration? Do you have a particular creative process, or is it more spontaneous?
JB: My main instrument is the piano. Most of my writing process starts with  improvising on the piano. By playing freely on the piano I try to capture a certain feel or mood. Whenever a chord progression or melody makes an emotional impression on me, I would pursue it and immediately start fleshing out that initial idea into more of a complete arrangement. After that I would start thinking about instrumentation and orchestration.
TMN: Can you talk about your new album, Elysium? Why the name "Elysium"?

JB: "Elysium" is a term, or rather a place in ancient Greece between heaven and earth, whereas the Greeks did not believe in heaven as such, "Elysium" was their general conception of the afterlife. The pictures and drawings I had seen in conjunction with "Elysium", also referred to as "Elysian Fields", were a strong source of inspiration for most of the pieces on the album.
TMN: Tell us a bit about the recording sessions of Elysium in the Czech Republic. It must have been an exciting adventure…
JB: It is always very special and way beyond words to have your music performed by the biggest band – the orchestra. This recording process in particular was one of the most moving and exciting things I had ever experienced in my entire life. Even two days after the recording sessions I would still get shivers by recalling certain moments in my mind. We had a staggering ensemble of 52-piece strings (6 concertmasters in the 1st violins), 14-piece brass and a 60-piece mixed choir.
TMN: Do you have particular plans for the future?
JB: Yes, hopefully I'll be able to continue living my dream.
TMN: What is the craziest message you've ever had from a fan?
JB: Not sure about "crazy", but I do remember one truly extraordinary and utterly humbling event that happened a few years ago. A fan of my music was telling me about her inability to conceive and have children. She had already undergone two unsuccessful artificial inseminations. Due to a certain predisposition in her body she could only risk one final attempt of artificial insemination. As all her hopes were tied to this event, she wanted herself to be in a very relaxed emotional state. She told me she would be using my meditation album "Floatovations" to be played during the procedure.  A few weeks later she told me the amazing news that she actually is pregnant and her body had reacted positively this time. Then she sent me photos of her newborn and a very, very moving thank-you letter.
TMN: Anything else you would like to share with us?
JB: Never forget the unparalleled power of music. It can take you through the most difficult of times, and amplify the joy you experience as well. Regardless of whether you're feeling great or depressed, music remains by your side like an infallible friend.
TMN: Thank you, Jo!
---
A video preview of Elysium is now available: "Journey to Elysium", which contains a medley of all the pieces as well as footage from the recording sessions. A wonderful and magical video, making us very impatient for this release.