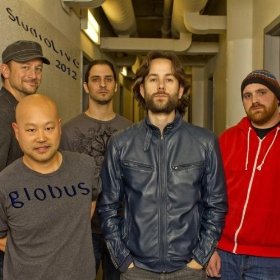 Globus have released two videos featuring live studio performances of two songs from their latest album, Break From This World. 
The first video is based on "Wyatt Earth", and the second one on "One Truth". "We are proud to introduce a fantastic new video of an inspiried version of "Wyatt Earth", filmed at a recent Globus recording session. Globus is now a full time band featuring a superb group of musicians, and they are planning to take their show on the road soon." (source: Immediate Music & Globus newsletter).
This time, these versions are studio versions, and feature new arrangements, without orchestra nor choir. Just a rock band. For this very reason, these versions differ from the CD versions. Which turns to be a very good surprise, actually. For the first time, we get to see the Globus band perform alone and the result is awesome. Even though there's no orchestra nor choir, Globus remain true to themselves and offer gripping and emotional music. They are pushing back the limits of the cinematic rock genre (which they initiated in 2006), and show us that it is possible to do a brilliant performance of cinematic rock music, with a simple rock band, without seeking the help of an orchestra or a choir. It also seems that, while remaining true to themselves, they are also redefining themselves. They now call themselves an "Epic Rock group".  Are they turning cinematic rock into epic rock?
Furthermore, it is interesting to see the different transitions between the original trailer music cues (orchestra + choir), the first Globus versions (orchestra + choir + rock band), and the final ones (rock band only).
Here is "Wyatt Earth" (studio version):
"One Truth" (studio version):

Both studio versions are available to the public for purchase through iTunes and Amazon.