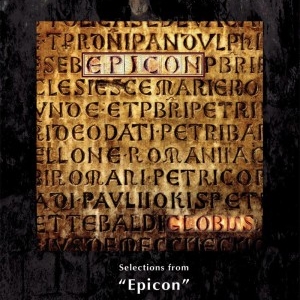 This songbook is the result of many fan requests.
"Ever wondered how to play the cyclical piano motif in "Madre Terra"? Ever wanted to sing along with the choir on "Crusaders of the Light"?  How about playing your own acoustic guitar version of "Prelude"?  Wait, what was that vocal harmony part in the second verse of "Europa"?
"The Globus 'Epicon' songbook has arrived. We've painstakingly studied, analyzed and incorporated the orchestral, choral, and rock arrangements from the 2006 album down into a comprehensive piano, vocal and guitard sheet music compilation.
"Featuring beautiful front and back glossy covers and a few select Globus photos, the book packs 12 epic songs into 92 pages, complete with separate vocal melody notation, guitar tablature and measure numbers. And with a limited print run, this songbook will quickly become a 'must-have' collectable item for every Globus fan! Visit the new Globus Sheet Music Store to download free samples or purchase. Also available as single song PDF with free bonus download of the song's lossless WAV file!
"THIS SONGBOOK IS PURELY THE RESULT OF OUR FANS REQUESTS!  We hope you like it!" (source: the Globus / Immediate Music newslestter of June 14, 2012 )
You can join the Globus / Immediate Music mailing list here.
Note that the release of the Epicon songbook is purely the result of fan requests and that Globus doesn't make any profit by selling it. Actually, they "are losing money on every book sold the way it turned out (over budget)"… (source: Facebook). Don't forget to say a huge thanks to Globus if you purchase the Epicon songbook!

The Epicon songbook is available to the public for purchase through Imperativa Records.