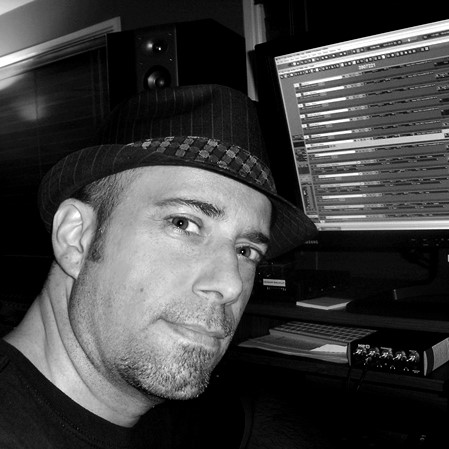 Interview with Future World Music
Future World Music is a very successful trailer music library, founded in 2004 by composer Armen Hambar. Since then, Future World's music has been featured in many blockbuster movie trailers such as How to Train Your Dragon, Ponyo on the Cliff by the Sea, or Night at the Museum 2. Their first public album, Reign of Vengeance, was released in April 2011.
You can find Future World Music on Facebook, Myspace and ReverbNation.
Trailer Music News: How did you first become interested in music? What led you to Future World Music, and writing music for trailers?
Armen Hambar: I grew up listening to classical music as a kid through my mother who played the piano and father who loved classical music. My first instrument, believe it or not, was the accordion.  I played from the age of 6 through 13. Once I became a teen I discovered the guitar and have been playing ever since; it is my main instrument.  I also studied some piano in college. I am a huge movie nerd and always appreciated movie scores very much. I also noticed that a great movie always had a great movie score, never one without the other. So, I originally wanted to become a film composer; but after realizing how difficult it was, I was introduced to the world of music for advertising and began writing for music libraries which eventually led to creating Future World Music in 2004. However, my goal is still to score motion pictures in the future.

TMN: Where does the name "Future World Music" come from? 
AH: Well, the logo/artwork inspired the name with its futuristic Sci Fi feel and musical instruments hovering above the water.  It represents how universal music really is throughout our world.
TMN: Do you record all your music live, or do you use samples as well? 
AH: It is a combination of both samples/synths and live musicians. Because technology has come so far with intrument samples and production value it's amazing what can be accomplished. However, I am  seriously considering doing an album with a complete live orchestra and choir in the future.

TMN: I can still remember the first time I heard tracks like "Aqua Vitae" or "Sin and Restitution". Where do you find inspiration to create such a beautiful music? 
AH: Well, thank you so much. I have a very vivid imagination and try to write music that compliments those vivid images. However, most of the time it just pours out of me as if I'm channeling some force of nature. Sounds corny, but true.
Listen to "Aqua Vitae", from Volume 7: 
TMN: You mention on your website that originality is an important aspect of your library. What do you think sets Future World Music apart? 
AH: Yes, originality is very important. What I believe sets us apart is that we do not "knock off" other composers' material which is very common among music libraries. There may be some influential similarites in some of our tracks. However, staying original is a more comfortable work ethic for me.
TMN: Reign of Vengeance, Future World Music's first public album, was released in 2011, and a second album is planned this year. What lead you to make public releases?
AH: Honestly, we would have never released a public album if it wasn't for our amazing fans. We received hundreds of e-mails requesting a public album. So, once we saw some of our competitors do it, we figured it was the least we could do for our fans.

TMN: Can you talk a bit about Volume 11 – Millennium? Why is it called Millennium? Who worked on it? 
AH: Volume 11 – Millennium has a futuristic and hopeful tone to it which inspired the name "Millennium". Furthermore, the artwork which was created with my direction by Daniel Kvasznicza, an amazing digital artist who has worked on big projects like 300, The Grey, and many other Hollywood blockbusters, was an inspiration for the title. The music was produced with a combination of real musicians and samples.

TMN: What goes into making a release like Volume 11 – Millennium? 
AH: A lot of long hours and sleepless nights.  Seriously, the concept art of the album is the first step which sets the tone and genre of the music.  Then there are about three musical steps for making a release like this. First, the music is composed and arranged. Second, it is mixed and produced by making sure the appropriate instruments, sounds, and effects are in place and balanced. Third, the tracks are mastered for the final audio output. After all that is completed the tracks are metadata embedded/encoded.   Finally, the album is uploaded to our website and printed/pressed for distribution. For Volume 11 – Millennium there was a big obstacle that delayed the release. I had major cervical spine surgery early in 2011. So, months prior to and after the surgery everything was put on hold. Fortunately, I can say that I am gratefully back to normal and will continue to release more epic albums in the near future.
Here is "Gods and Demons", from Volume 11:
And here is "Beautiful", featuring Cara C. on violin:
TMN: Do you have particular plans for the future? 
AH: Yes, I am planning on expanding into new areas, one of them being an album of actual songs with lyrics with amazing male and female vocals. This is one of the plans FWM has in the future. Also, we will continue to release our catalog albums as well as another public release this year which will be a compilation of our music from previous albums and new similar to the format of Reign of Vengeance.
TMN: Anything else you would like to share with us? 
AH: Well, I would like to thank TMN for being so supportive and being patient with interview requests over the years. Also, I am very grateful to our fans on Facebook. Our fan base really means a lot to FWM.
TMN: If a trailer music composer was a superhero, what kind of superpower(s) would he have?
AH: Hmmm, that's a tough one. Of course like most people I would like the power to heal and help the less fortunate countries/people in our world.  Personally, I would like to have the ability to play every single musical instrument in the world proficiently.  And, facetiously, I would like to have the power of invisibility and the ability to move objects with my mind. That's not too much to ask for is it?
TMN: Thank you!