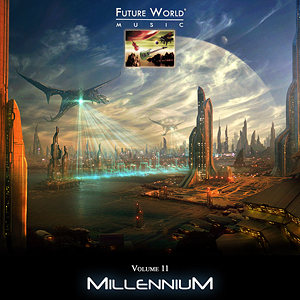 Future World Music Vol. 11: Millennium
Almost a year in the making, the long-awaited Volume 11 – Millennium is finally here!
The project had been delayed in 2011, as Armen Hambar, Future World Music's founder and main composer, had major cervical spine surgery. This is why Volume 11 was released much later than expected. "For Volume 11: Millennium there was a big obstacle that delayed the release. I had major cervical spine surgery early in 2011. So, months prior to and after the surgery, everything was put on hold. Fortunately, I can say that I am gratefully back to normal and I will continue to release more epic albums in the near future." Armen Hambar explains.
As some say, "good things come to those who wait"! Indeed, Volume 11 was worth the wait.
Entitled Millennium, it features two discs, one with the twenty main tracks, and two alternate versions: "Premium Orchestral Cues with Choir. Epic Action and Fantasy Adventure.". The second disc feature the no choir and alternate mixes. Millennium won't disappoint you: on the overall, it is a very good album, featuring tracks with uplifting tunes; many of them are built in a similar way, progressively leading to an interesting and intense climax and conveying a lot of emotion, turning the tracks into inspirational moments. An excellent example of this is "Leap of Faith" – clearly, the title perfectly matches the cue. Or is it the other way round: the cue perfectly matching the title? Either way, a wonderful piece of music.
In Millennium, you will also find epic and darker cues, such as "Attack of the Titans", or "Gods and Demons", a track in the good old epic Future World Music style that we all love:
Many of the tracks feature beautiful female solos, a rather new thing at Future World Music, and a very welcome one, as it adds a beautiful and ethereal touch to the compositions.
The artwork of the album was done by Daniel Kvasznicza.
To accompany the release of Volume 11: Millennium, we did an interview with Armen Hambar, who gives us a very interesting insight into his company and his work. "Volume 11: Millennium has a futuristic and hopeful tone to it which inspired the name 'Millennium'", says Armen Hambar. Read more here!

Volume 11: Millennium is currently not available to the public for purchase. The entire album can be previewed on the Future World Music website, in the Music section. For licensing information, visit the company's website.