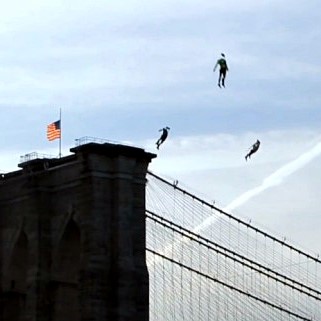 Audio Network Music in Chronicle Promotion
You may have seen this promotional video that's been spreading across the internet.
What you may not have known though, is that it uses the track "Unstoppable 2" by Tom Quick, from Audio Network. If you like the track, you can actually buy the piece from Audio Network's site for only $1.25.
It's such a cool video, I felt it was worth writing about here. TMN often covers music that's used in promotions like movie trailers, but rarely are promotional videos as unique as this. I have to give props to the marketing team behind this little stunt.
That team is actually the marketing agency thinkmodo. I really like their style. Check out their website for more viral videos they've worked on; there's a good chance you may recognize a few.

This particular video shows some radio-control operators flying remote control planes that look like people in New York City. It was done to promote the 20th Century Fox movie Chronicle, which is about a group of teenagers who find themselves with superpowers. What would you have thought if you saw these from a distance? Even though I know people aren't actually flying, it's still a powerful image: one that kept me engrossed and watching until the end. I suppose that's not surprising, considering we as a people have always been fascinated with flight.
Maybe it's silly to read into something that at it's heart is a marketing ploy to get people into theaters. However, it's difficult to take such a cynical stance. The bystanders who saw these flying figures in the distance wouldn't have known it was related to the film. Even in the video itself, the only mention of the film is in the form of an image at the very end. A lot of viewers might miss it. Chronicle is almost an afterthought. That's not to say I think thinkmodo's promotional goal was unsuccessful. On the contrary, the press and attention it has gotten seems to be huge. It managed to be unobstrusive, as well as meaningful.
As consumers become increasingly unfazed by 'traditional' forms of advertising, marketers face more of a challenge to get their message across. Perhaps this is why campaigns are getting more creative. Frankly, I wouldn't mind seeing more marketing stunts like this. This video taps into something fundamental and sparks the imagination. Four million views (and counting) is impressive. Other agencies should take note. Audio Network is probably thrilled that Tom Quick's track has been an integral part of this experience.
source: Audio Network FB page / Co.CREATE • poster via: Ignition Creative