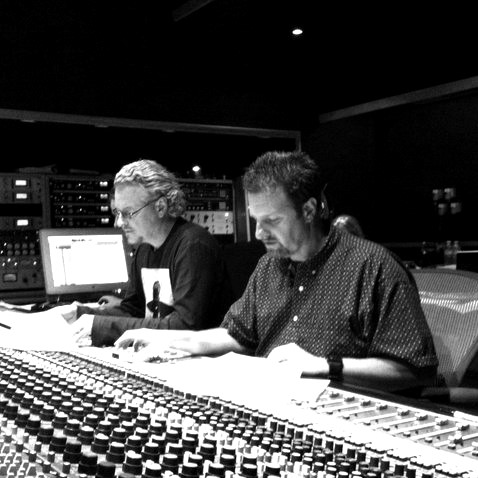 Interview with Brand X Music
Brand X Music is a successful trailer music catalogue created by John Sponsler and Tom Gire. Their music has been featured in many blockbuster movie trailers, such as Harry Potter or Batman Begins. They just released their very first public album, The Best of Brand X Music. You can find Brand X Music on Facebook, Youtube and Twitter.
Trailer Music News: Can you introduce Brand X Music? When and how did you start the company?
Brand X Music: In 2002 we officially launched the catalogue, which consisted of volumes 1-3. This music was almost entirely the byproduct of custom trailer scores that we had written over the previous three years. We had a lot of really cool music that was just sitting around after the campaigns were over and Brand X Music became the perfect outlet for it.
TMN: Who are the composers behind this wonderful music?
BXM: For the first ten years, every track was composed by John Sponsler and Tom Gire. In 2008 Josh Lynch came on board as our assistant and chief tech guru, but has grown to become another writer as well.
TMN: How did the two of you meet?

BXM: John and Tom met through a mutual engineer friend. At that time, John was scoring "B" movies and TV shows and Tom had been doing re-mix and arranging work for the Asian pop market. John got a call from a guy who was producing a trailer for a ground breaking new film called The Matrix. At the time, there had never been a movie that looked like The Matrixand the filmmakers wanted a different musical approach for the campaign as well. This, our first big campaign together, was also one of the longest we have been on since. We spent countless hours in the studio mangling, reversing, pulsing, and processing to try and capture a sound that complemented the unique style of this film.
For the teaser trailer, the trailer's producer had us create a sound design piece called "Eliminator". The trailer was released with no dialogue or sound effects, just the music! You can view the teaser here.
TMN: What trailers have you worked on? Do you often do custom cues?
BXM: Well, after the success of The Matrix campaign, the door to custom scoring movie trailers swung wide open. Since then we have scored over 100 major film campaigns including A Beautiful Mind, The Last Samurai, Terminator 3, Troy, The Polar Express, Batman Begins, 300, and all eight Harry Potter films. In recent years, we have cut back on the number of custom scores we do in order to devote more time to the library. However, we believe that it is important to do a certain amount of custom scoring just to stay current and on the cutting edge of our industry.
For a more complete list, you can lurk here.

TMN: Is all of your music recorded live? Where do you record it?
BXM: Most of the music is created with a blend of samples and live musicians. We have three identical composing rigs. Our main writing room is located at Remote Control Productions in Santa Monica. In addition, we have identical writing rooms at our homes. All the tracks are written and fully realized using the synths, and then we decide what will be augmented or replaced. We are able to record overdubs and soloists at our Remote Control facility, and have recorded orchestra and choir in Seattle, Prague, and Los Angeles.
TMN: How is Brand X Music different from Magic Box Music?
BXM: Brand X Music is the library entity. Magic Box Music is John and Tom's production company. In addition to writing for and being partners in Brand X Music, we work as composers for film and other projects under the name of Magic Box Music.
TMN: Do you have particular sources of inspiration?
BXM: Well, for sure the great film composers of our time:  Williams, Zimmer, Newman, Elfman, Powell, Rabin, and so on. We have had an amazing opportunity to work with several of our heroes over the years, and their talents, sensibilities, and work ethics are an inspiration on so many levels. In addition to those guys, we are also influenced heavily by some of the more pop/rock guys. Trent Reznor is always writing something cool and innovative. Celldweller, Coldplay, and Linkin Park are bands that have a very cinematic appeal. We are also inspired by all of the young creative guys that are working from their bedrooms breaking all the rules and pushing music in new directions.
TMN: What is your biggest challenge when you compose?
BXM: The biggest challenge to composing is breaking the silence. At the onset, every composer has the same challenge, and that is, we all start with a blank page. The process can be both agonizing and humbling because as deadlines loom, computers crash, and inspiration wanes, you wonder if you will ever get a decent idea off the ground. Perspective comes when you witness guys like John Williams and Hans Zimmer having self doubts and working really hard to do what they do. So you begin to empty yourself into the computer without thinking too much about what you are doing. When you run out of ideas, you clean it up and see if there's anything left that's worth developing. For each new Brand X volume we ultimately want to bring something fresh to the table. We try to give each new volume a unique sound, something that hasn't been done before. It is a challenge that will never be met… a goal that can never be fully achieved; yet it's what makes what we do so compelling and keeps us striving.
TMN: When did you decide to release an album to the public?
BXM: Well historically our industry has been for 'insiders only'. As we became aware of more and more companies putting out public releases, it became obvious that it was time for us to do so as well. A fan (Derek Hendrickx) was really vocal in how and why we would release this album. We are in all reality 'artists'. The down side of writing trailer music is that we make tracks that most people will never hear outside of the films they were created for. The anonymity of what we do can be very challenging at times. An entire career can be spent creating scores for billions of dollars worth of box office, without any track record or credit whatsoever. With the huge rise in the popularity of trailer music, putting out our music to you guys is an amazing opportunity to connect with a group of people who enjoy what we do, not just as users, but as aficionados!
TMN: How did you select cues for this album?
BXM: We looked at all the fan made videos on YouTube and saw which tracks were the most popular, and balanced that with some of our own favorites. It was not easy, and no matter how hard you try, there is going to be someone who says: "Why isn't ________ on there, it's my favorite track!" We hope that we covered at least some of the essentials, but hey, there is always the next release!
TMN: Did you edit or rearrange tracks for The Best of Brand X Music?
BXM: Yes, not drastically, but we wanted to make the CD a complete listening experience, not just a catalog. We spent lots of time on the sequencing of the album, and where needed, re-mixed and edited tracks to make them flow together. We are really proud of what is here, and hope that everyone really enjoys it!
TMN: What campaigns were the cues of The Best of Brand X Music used for?
BXM: Well, most of these pieces have been used multiple times, but some of the custom scores on this release include: "Rise of the Avenger", written for Batman Begins; "Spawn of the Dragon", written for Harry Potter and the Half Blood Prince; and "Fearless", written for 300 just to name a few. Then there are the catalogue pieces that have had multiples licenses like "Bring the Pain", used on Fright Night, Inglorious Bastards, Taken, and Beowulf; "Inevitable", used on Angels & Demons, Watchmen, Prince of Persia, Jonah Hex, and Season of the Witch; "Paradise Lost", used on Hereafter, 300, The Kingdom, Hitman, and Rescue Dawn; "All or Nothing", used onTwilight: Breaking Dawn Part 1, and Harry Potter and the Deathly Hallows Part 1; "Spawn", used on Ides of March, The Day the Earth Stood Still, Hellboy 2, and Jumper. There are also cues on the CD that haven't been used as much, but we love them for what they say musically, and wanted to include them as well.
TMN: Do you have particular plans for the future? Which albums will you release next?
Brand X Music: We are in the finishing stages of Brand X Volume 15, and are already planning Volume 16. As far as public releases, we will see how this one goes, and if it is received well, it is our intention to continue with public releases in the future!
TMN: Anything else you would like to share with us?
Brand X Music: We just want to thank everyone (TMN, and the fans at large) for your support and love of what we do. Although it is true that we have the greatest job ever, it is hard work that is really personal – a lot of ourselves go into the music. When it is appreciated and shared throughout the world, it makes it all that much sweeter for us to keep on writing!

Also, we are new at the whole publicity side of this, and are thankful to the trailer music community for embracing and spreading the word of this release!
TMN: If a trailer music composer was a superhero, what kind of superpowers would he have?
Brand X Music: He must be impervious to rejection, able to survive on caffeine, sugar and catnaps, have ears of steel, and never – ever compose a melody that resolves down.
TMN: Thank you very much, guys!
---

The Best of Brand X Music is available to the public for purchase through iTunes, Amazon, CDBaby and Bandcamp.