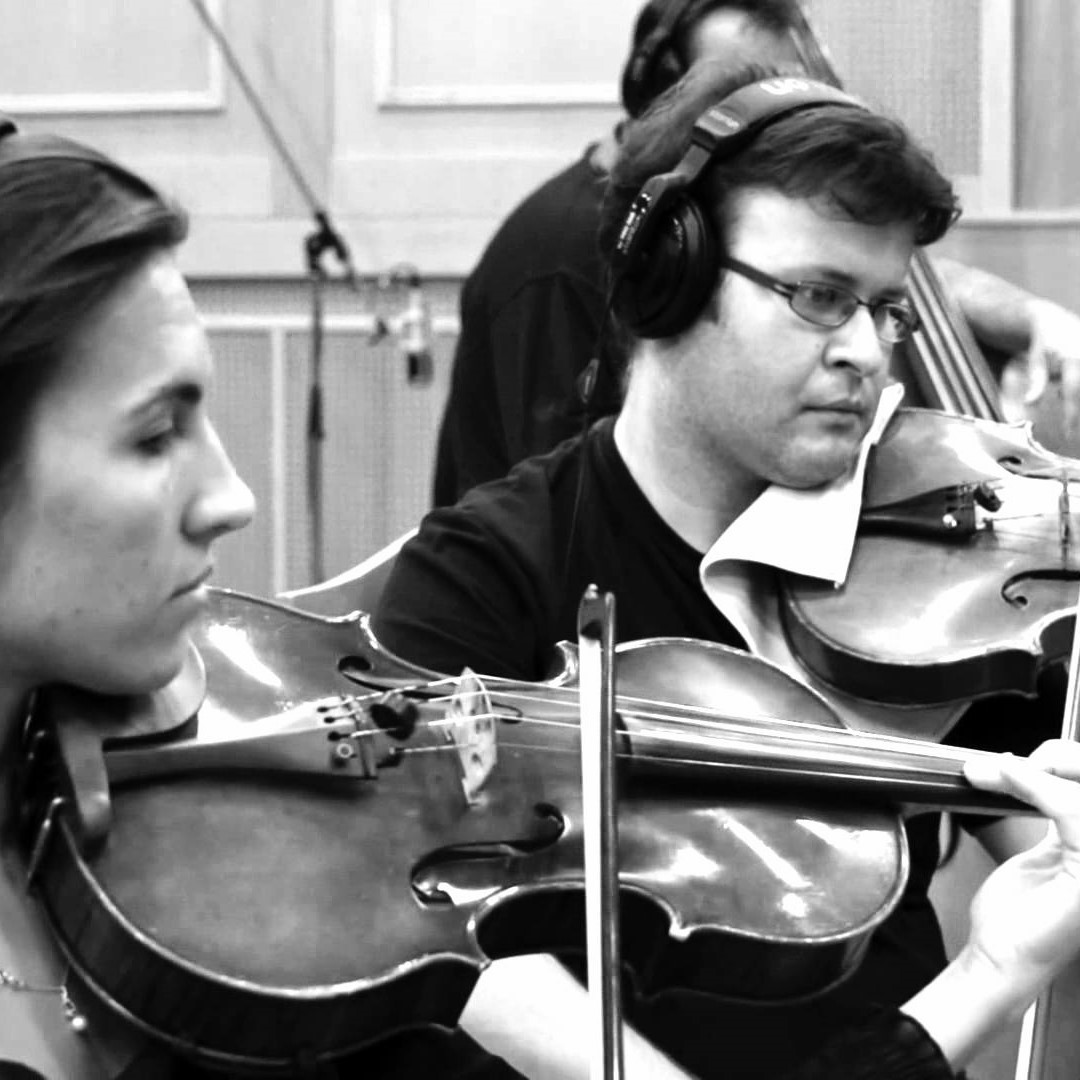 Fired Earth Music in Budapest: We Were There!
An exciting letter arrived in Trailer Music News' mailbox last Thursday from Hannah Vice, Creative Producer of Fired Earth Music. The letter said that three new Trailer Music albums were being recorded in Budapest and that, if we'd like, we could come by and check out the process. Of course we had to! They were staying in Hungary for only three days, and the letter arrived at the last minute, but after some quick phone calls and emails, we rushed to organize a meeting for 1pm the next day.
When I arrived they had just finished recording the strings. I met with the above-mentioned Hannah Vice, Sara Gilchrist (the Producer and Engineer for West One Music Group), Edwin Cox (the Managing and Creative Director of West One Music Group) and composer Patrick Hawes, who conducted the orchestra. When I got there, there was a short break between sessions and we listened to some of the strings against the backing tracks, from the upcoming albums. Obviously, the tracks had not been mixed, but even at this stage I still really enjoyed them all.
Three albums were recorded here, and all will expand the library of Fired Earth Music. The most well-known of the composers is probably Jesper Kyd. This Danish composer must sound familiar to video game fans; he wrote the music for the blockbuster Assassin's Creed series, but his talents can also be heard on the scores of Hitman, Splinter Cell: Chaos Theory and The Chronicles of Spellborn. This composer, who has mainly scored videogames, writes some truly epic choral and orchestral music for this new Fired Earth Music release. It will surely be cherished by those who enjoyed the first album of Fired Earth Music: Vulcano. I liked Jesper Kyd's pieces the most.
The urban-thriller pieces of the second album were composed by Justin Crosby. The orchestral sound, which is presented in this album too, is combined with a rock sonority. The third Nine-Inch-Nails-style, Industrial Orchestral album was composed by Enrico Cacace, whose music was used in the trailers of Cowboys and Aliens, Machete, Rio and many more. He had composed high octane, dynamic pieces which vivify the scenes of action movies: explosions, fast car chases etc.
As I had absolutely no experience with the proceedings of a recording session, it was a whole new thing to see the musicians, the conductor and everybody else working in the studio. Due to distance, the Los Angeles-based composers, Kyd and Cacace, and East-Coast-based Crosby could not attend the sessions.  However, producer, Sara Gilchrist connected virtually with Jesper's orchestrator from the studio, so a few sleepless nights for orchestrator Benoit Gray.
Like I mentioned, the tracks were recorded in parts: strings, brass and choir are recorded one by one, separately per song. In the case of individual instrument sections, even staccatos and legatos are sometimes recorded apart. Frequently only a few seconds of a song were recorded again and again, until Patrick was satisfied with the result. Honestly I was absolutely impressed with their awareness and how they cared for even the slightest details. I managed to witness the recording of the brass, although the choir was recorded elsewhere to my great sorrow. I learned that they chose Budapest because of their talented musicians who "performed to the highest standards" and had "boundless energy"
I had prepared to do an interview with Edwin Cox, but he had to leave quickly because his plane was taking off at 3 o'clock. Therefore I spoke the most with Hannah. She told me that two albums by Kyd and Crosby are due to be released in October. I learned that producing these albums might take years. For example, Fired Earth Music first contacted Jesper Kyd almost two years ago. We talked about the creative process: first, they agree on a direction and style for the album based on market trends and intelligence gathered from Music Supervisors in Hollywood's Trailer Houses. The brief is then written and paired with a composer suited to the brief.  The composer develops demos that are the early, fully sampled mock-ups of the pieces. From this point the music can change a lot because there is a constant reconciliation between the composer and, in this case, Fired Earth Music. I like that everybody can take part in the creative process.  Once the demos are signed off, the Fired Earth Music team then go on to plan the orchestral recordings.  West One Music Group record all over the world, depending on the style of album.  Fired Earth Music's Family Adventure album Fantazium was recorded in Hollywood's East West Studios for example, and the romantic, arthouse, drama album Bellitas was recorded in the historial Rudolfinum in Prague.
Hannah also mentioned some of Fired Earth Music's plans for future releases: They have albums in the works with Patrick Hawes, Jeff Tymoschuk, Benson Taylor and Ryan Amon. They also have an imminent Limited Edition release of Man of Steel – Remixed EP.  "Man of Steel" from their debut album Vulcano was featured in trailers for Percy Jackson & The Lightening Thief and The X Factor, and Fired Earth Music have produced a 'Dirty Dub-Step' and 'Four to the Floor' remixes as well as two 'Platinum' mixes of the popular cue.
Speaking on the current trend of trailer music usage, it clearly bends towards unique Sound Design, because they catch the viewer's attention very effectively and the sparse nature is unnerving and impactful. The best example of this is the trailer for the latest Transformers movie. Fired Earth Music just released their Sound Design Vol.1 album based on this market trend.  This occasion always raises a question: what will be the next trend?
Finally, I can say they welcomed me very nicely. The one thing that most impressed me was that everyone I met was very passionate about their job. I immediately think of the flow. Maybe for an outsider, or even for a musician, this work seems monotonous: going again and again as they tirelessly repeat the recording in small parts. But the team clearly sought for the perfect outcome and best quality. I am really glad that they let me take a look inside their job.
Update: The release of 'Blaze' by Justin Crosby is postponed until next year .