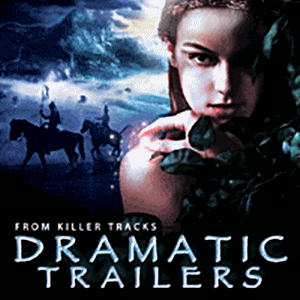 Killer Tracks: Dramatic Trailers
Killer Tracks is indeed back with a brand new epic album, Dramatic Trailers, featuring "action, adventure, drama, suspense" music, composed by David Travis Edwards, Daniel Heath, Jane Antonia Cornish, Nicolas Neidhardt, Jonas Baker, Christian Telford, and Gregg Lehrman.
"Leave audiences spellbound with the epic and emotional cues of Dramatic Trailers. Filled with live strings and big orchestral sounds, this double-disc collection features some of today's most accredited film/trailer composers. Four emotive sections include Epic Drama, Sweeping Drama, Hybrid Ensemble and Fantasy. Each will transport your audience to awe inspiring places. "
Dramatic Trailers is currently not available to the public for purchase. For licensing information, visit the Killer Tracks website.