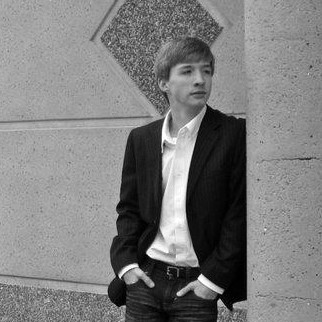 Interview with AudioGrave's Daniel Yount
Daniel Yount is a young composer who started his own trailer music library, AudioGrave. AudioGrave is on Facebook and SoundCloud.
Trailer Music News: Tell us a little about yourself. When did you first became interested in music, and what led you to trailer music?
Daniel Yount: My name is Daniel Yount. I'm fifteen years old. I'm not aware of anyone younger so I guess I get the "youngest composer" award as of now haha…
I can remember back three or four years ago (I think it was four) to the first "trailer music" I ever heard. "Serenata" by the famous Immediate Music. I guess you could say from a very early age my family and friends thought I was weird. I always listened to soundtracks and orchestral CD's rather than the "normal" Brittany Spears or Black Eyed Peas stuff. I remember sometimes I would find a track from a particular soundtrack (e.g. Lord Of The Rings) and just play it over and over. My Mom would get so angry at me blasting it through the house again and again… I guess that's why they got me an iPod the next Christmas.
The first instrument I learned to play was the piano… (I think I was eight or nine?). I took lessons for about four years and quit. The reason I quit wasn't because I didn't enjoy the piano or playing it. I just found it so structured and repetitive and so "by the book" that it just wasn't what I enjoyed doing. Every week I would have a piano lesson for an hour and I just remembered feeling constricted and bound to play the notes and rhythms exactly the way it was printed on the page. I found myself sitting at home practicing songs like "We Wish You A Merry Christmas" and I would hit wrong note, but I wouldn't stop. I would drift off into my own song of my own making and before I realized it, unintentionally, I was making music. Not reading music- making music. Before I knew it I was able to play any song I heard by ear, could tell roughly what interval notes were at, and common chordal structures.
I guess at that time I was about thirteen I started becoming interested in the genre some refer to as "trailer music". I call it pure awesomeness. It's actually quite funny how I got into the "trailer music" forums and such. It was back around the time there was a buzz about "Black Blade". I had been searching YouTube for trailer music, and found a guy who had uploaded some music. I asked him about "Blade Blade" and he uploaded it for me to YouTube for exactly two minutes. Just enough time for me to listen to it. About a week later "Blade Blade" was leaked to a forum that I'm sure some of you know about. I found that forum, and other trailer music forums, while searching for the song.
I do have to say that I've made many great friends while on the forums, and I felt as if I actually connected with people there (I don't think we ever discussed Brittany Spears haha…).

TMN: What inspired you to create AudioGrave? Where does the name come from?
DY: As far as AudioGrave goes, the name had to be unique. Ha, I just remember going through dozens of names for a "label" and finally I gave up. They were horrible. Nothing would do. It wasn't until close to Halloween that I finally had the idea. Me and a couple of friends had gone to a mall a couple days before Halloween, and there just happened to be a haunted house in the mall, "Mall Massacre". Well, nearing the end, there happened to be a gravestone, and as we approached it a man rose up "from the "grave" so to speak accompanied by horror music. Audio from the Grave… AudioGrave. Bringing back music from past the grave.
TMN: From Darkness: how would you describe your first album? How long did it take to make?
DY:  I started working on From Darkness in mid-August. The first track I composed was "Starward". That track alone took about one week to get where I wanted it to be. At the time I had no idea what the particular style of the album was going to be… So I kept on writing cues until I finally decided on an Dark Epic Drama style. I think (in total) I had around thirty tracks that were composed for From Darkness. Obviously, ten tracks didn't make the "cut". They weren't bad, just didn't fit with the rest of the tracks in the album. Overall, the album took about four months from start to finish.
From Darkness full album demo:
TMN: Are there any composers that inspire you?
DY: I have been in love with James Newton Howard's soundtracks ever since I saw Lady in the Water. His score simply made the movie, and what's so ironic about it, is his music is always so simple. Nothing fancy or distracting, just simple melodies. I can also say that any new composer inspires me. I am very pleased with Andrew Lockington's job on the City of Ember soundtrack. Also with Jesper Kyd's work with the Assassin's Creed series. All these relatively new faces give me something to look up to and inspire to become as I advance through my career.
TMN: Have you scored any films?
DY: I would love to score a movie or short film one day. I am, in fact, helping two of my friends with scores for their short film projects. Hopefully I can grab some experience there and give scoring a go.
If anyone would like a theme or custom cue written for them (i.e. podcast, trailer, video, or for a special occasion such as birthdays/wedding) contact me at yountdaniel[at]gmail.com, and make sure to mention TMN for a special discount.
Listen to a preview track from AudioGrave Vol. 2 – Forces of Fate:
TMN: What's next, and what are your goals going forward?
DY: I plan to go to college, study music composition, move to LA, and purchase a studio.
I have been asked a lot about future albums and such. I will say that I am in process of writing for two new albums and have targeted February release dates. Volume 2 will be titled Forces of Fate, and will focus on heroic and inspirational themes with electronic mixes. I'll also be putting out a piano album for a Valentine's release.
Finally, if From Darkness sells a hundred copies by next March, I will release an exclusive expanded edition free of charge to this site. The expanded edition includes all of the alternative versions for the songs (i.e. no choir, alt, drum cues) and has a total of 73 tracks. So buy the album if you haven't already and spread the word.
From Darkness will also be appearing on other sites such as Amazon, Rhapsody, eMusic, and other popular music stores in the near future.
TMN: Thanks Daniel.  Best of luck with your endeavors!