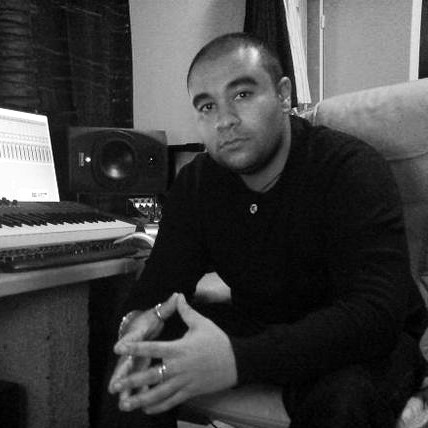 Interview with Tarek Mansur
Tarek Mansur's talents were discovered by Epic Score.
TMN:  How and why you did you begin composing? 
Tarek Mansur: I felt that in some cases the music that was featured in trailers didn't end up like what I had in mind. So I decided to specialize my skills on the darker side of sounds to get the music even more cinematic. I have always loved movie trailers and especially the sound design that is always used in trailers. So I did a few songs and knew immediately that this is something I really really wanted to do. You know, I just love the bass and that low lurking sound design and large textures with rhythms. And to be able to compose this music was just a perfect idea!
TMN:  What type of music do you like to compose?
TM: I create cinematic music that is focused on epic orchestral, textures, horror and sci-fi. As you understand I love to make dark music that is really dynamic and unpredictable. You know like you're watching a scary movie and hear these reversed vocals and dark drones and then it just BAAAM!!! Smash you in the face haha!!! And I really love to compose epic orchestral tracks. I try to bring my darkness to them but in a classical way. So I would say I compose trailer music because I don't think my music fits in any other compartment 🙂
TMN:  How did you get involved with the trailer music industry, and how did you start working with Epic Score?
TM: I submitted a track for a contest that Spectrasonics had arranged for their upcoming release, Omnisphere. The prize was that you could win this amazing virtual instrument and I was really excited.I was a finalist but I did not end up with the winners, and was very sad. A year after or so I got contacted by Gabe Shadid, president of Epic Score; he had heard my entry for that contest and some other tracks on my website so he asked me what I was doing at the moment and if I was interested in sending him music.I remember our first talk on Skype and I was in shock; he didn't know I was a HUGE fan of Epic Score and listened to his music all day long, on my way to my work and even in bed! It was Epic Score; that was IT for me, the climax, the nirvana and he wanted my music? I couldn't believe it; I actually started to cry after our 2h long talk. Hope he doesn't read this haha! So our cooperation started thereafter, and I hope it will continue forever because I love to make this kind music and this is the only thing I want to do.
TMN:  What are your experiences in composing trailer music ?
TM: These two discs that are coming up right now are my first releases EVER. I have absolutely no experience with trailer music because this is the first time I'm actually "doing it". There are no rules in trailer music; you can build it however you want and I think that is my experience. I just love to f%*# up the rules hahaha!!! So this is very exciting for me, to see how the editors will use our music.
TMN: Where is your music available or featured?
TM: This is my first official trailer music release. So I am still "unused" and very fresh haha! I hope our music will be featured in many campaigns and is successful. Our Texture disc is very deep and twisted and really useful. I have thought a lot and tried to bend the rules as much as I could during the production of Epic Textures Vol. 4. And I really hope it pays off cause this disc is f&5#%ng heavy!
TMN: Do you have any favorite composers, or trailer music companies?
TM: Of course I do! Gabe Shadid has inspired me so much I can't explain it. My favorite track ever is "Siren's Call". I just love that track! He has done such amazing and inspiring music.I also love Paul Haslinger; his soundtracks for Underworld (the first one, and Rise of the Lycans) are my fav scores ever! They're dark and pulsing and have this big orchestra in it and the coolest sound design ever! But my favorite musician is Diego Stocco! I mean come on! Who else can make music from a tree and create own instruments? Have you checked out this guy? He is my hero haha! And his sound design skills are just way beyond our time! He's amazing; I love him! I also love Thomas Bergersen's and Nick Phoenix's music, what can I say? You all know what I am thinking right? 😉 There is one track that I can listen to forever. It's called "Color The Sky". I am actually listening to it right now while I'm writing. Just have tears in my eyes, it's amazing! Wow! But I think the best tracks from Two Steps From Hell are "Moving Mountains" and "Freedom Fighters". These are always on my playlist haha! I also love Marilyn Manson; don't hate me! 😉 He has made some awesome cinematic music as well! Check out the soundtrack for Resident Evil. It's just amazing! Marilyn Manson did those nasty industrial synth sounds while Marco Beltrami scored the orchestra. That turned out to be many favorite composers. 😛 But there is still one, Hans Zimmer! I shouldn't start cause I won't be able to stop! He is amazing!
TMN:  Any project or composition that was exceptional?
TM: Yeah, there is one track on the Epic Textures Vol. 4 that my sister's 2 children recorded some vocals on that turned out to be amazing! I time-stretched the song so it got this dreamy feeling. That track is really wicked! And of course to be able to work for Epic Score is exceptional! It's my dream coming true!
TMN:  What are you working on now and what are your plans for the future?
TM: I am working on an orchestral track right now that is really massive! And I hope I can finish it soon; it's one of the hardest tracks I've ever done. I have some really cool plans as well but I really can't talk about it just right now. But as soon as it is approaching, I promise I'll tell you about it! It will be AWESOME!!!
Listen to an exclusive demo track by Tarek:
TMN:  Any other thoughts you want to share with us?
TM: I just want you guys out there to know I'm an ordinary guy; I still live with my mom and try to make trailer music for living. It's a rough business with many talented people out there. I was blessed and got a chance I never thought would come to me. So I would like to say thank you so much to Gabe and for everything he's done for me. And I think you guys at Trailer Music News are fantastic! Thank you for just making what you do! I am so surprised there are so many people loving trailer music! It's amazing right?! Nothing can compare to a huge epic orchestra and screaming choirs! God bless all of you!
P.S. Many people ask me how I begin to write my songs so I have recorded a live example on my keyboard so don't laugh haha!! This is how it basically can sound before the big drums and textural design comes in 🙂
TMN: Thank you too.