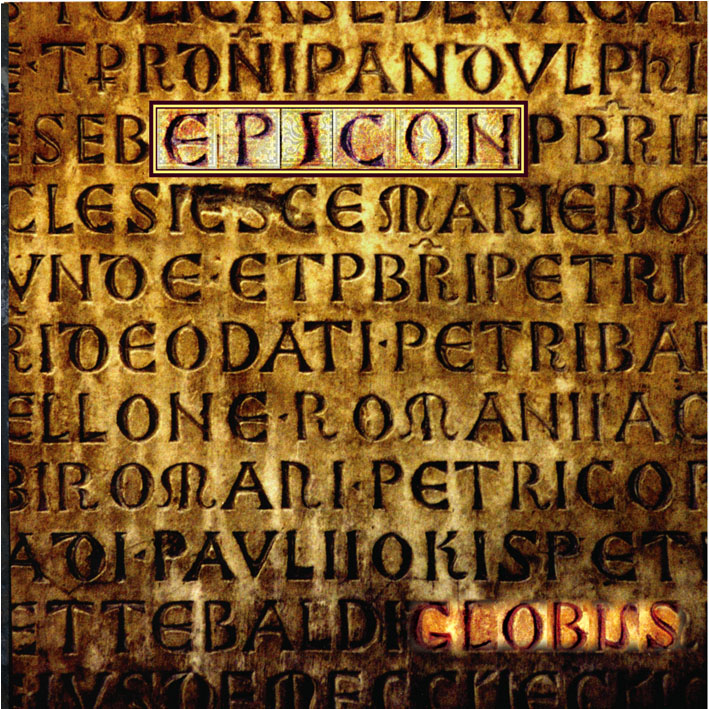 Epicon is the first studio album of Globus which was released in 2006. It was Immediate Music's answer to the many letters of fans who wanted to buy their music. It features 14 tracks which are in a mostly epic orchestral rock style.
Globus. This word means a lot, but for those who have a clue what trailer music is, this word beats their heart. Globus was created by Yoav Goren in 2006 who is almost a semi-god in the trailer music business. Globus' live debut at Wembley's Grand Hall, in London, where they played songs from their first studio album Epicon, was an enormous success. The album was released a few months later and while it might not have brought about a revolutionary new sonority, it did create a new brand: a never before heard combination of instruments, topics and musical compositions.
I would like to summarize for laymen in a few sentences what the heck trailer music is.1 The obvious definition: every kind of music that can be heard during movie trailers. The more narrow explanation of this phrase refers to a typical sonority of music for fans. What is that typical sonority? For a long time I had trouble answering anyone who asked me what kind of music I like, because if I said trailer music, it usually evoked a pretty strange reaction. Eventually I realized people consider me less a musical geek if I say I like modern pieces of orchestral music with choral sounds. That's a bit better. Of course it is much easier if I add that it is just like Carmina Burana by Carl Orff. As it is a famous widely known composition, everyone can understand this term "trailer music" and it guides the reader as well – or perhaps frightens.
I didn't bring up the name Carl Orff on accident. The most famous composition of Carmina Burana is "O Fortuna" which inspired the narrow explanation of trailer music I mentioned earlier. The choir of "O Fortuna" accompanied the trailer of Excalibur which was directed by John Boorman in 1981 and revolutionized the musical style of trailers.2 Hollywoods' most famous studios, after examining the financial report, realized the success and great potential of this style. They realized that the massive orchestra with the choral sound had a great impact, and it successfully expressed of the epic nature of the movie. As a result, the desire to license music like "O Fortuna" arose. Yoav Goren and Jeffrey Fayman broke into the trailer music market in the early 90's. In 1993 they founded one of the most successful trailer music companies of Hollywood, called Immediate Music. Most of the pieces are composed by them, but there are many composers who have contributed to this library over the years. The music of Immediate Music can be heard in the trailers of blockbuster hollywood movies such as X-men: The Last Stand, Spider Man 2, Pirates of the Caribbean, War of the Worlds, The Da Vinci Code, and countless others.3
Over the years a whole sub-culture formed around trailer music, and more and more people were getting know this genre. While it pains the hearts of trailer music fans, it's important to mention the fact that the music of Immediate Music along with other companies' were (and mostly still are) available only for the studio professionals and trailer houses4. Mortals could not easily possess these pieces of music. Most companies try to guard the exclusiveness of their music. Although albums of this genre were released before Epicon, Globus' debut album can truly be considered a milestone. Not just because the songs of the album are from one of the world's leading trailer music libraries, Immediate Music, but also because it was the first step that led to other releases, and live events like Trailer Music Live.5
Yoav Goren realized that the main "problem" with trailer music was that it is not a very mainstream genre, and most consumers aren't even aware of it. Therefore it was necessary to make some changes to the style and structure of the songs. Of course by doing this there was the risk of losing the magic within the music. I can honestly say that Goren successfully overcame this difficulty. He kept the two foot-stones- the choir, and the orchestra- and enhanced the style with the rough tune of an electric guitar, and lyrics sung by soloists.
Naturally, as with all big plans, this project required outstanding talent. Goren, as a super hero would, had to gather an efficient group. The main male soloist, whose voice can be heard during the song of "Prelude", "Orchard of the Mines" and "Europe" is Dann Pursey alias Dann P. He founded Globus along with Yoav, and was instrumental in making Globus the hit that it became. He became the voice of Globus. It took time for me to get used to his voice against the backdrop of orchestra and choir, but I've grown to love the way it complements this genre. In case of many songs, like "Orchard of Mines" or "Europa" he didn't just give his voice, but he also wrote the lyrics. We can also welcome aboard Anneke von Giersbergen the queen of metal. She became famous through the metal band "The Gathering". Their success in the second half of 90's is thanks to her. She continued performing music solo and later Goren asked her to sing some songs for the forming Globus. We can hear her beautiful voice in "Mighty River Runs" and "Diem Ex Dei". Additionally, Lisbeth Scott, a famous vocalist, joined the crew of Globus as well. Amongst film composers she is well known. She worked together with famous composers such as John Debney and Harry-Gregson Williams. Finally, the vocal talents of Scott Criscon can be heard during the song "Madre Terra" who trained his techniques and vocal chords on the most famous and difficult pieces of opera.6
The 14 songs on Epicon originated from the "well known" compositions the Immediate Music library. "Diem Ex Dei" originated from "Lucius Dei", "Europa" from "Electric Romeo", "Orchard of the Mines" from "Serenata", and "Preliator" from "Lacrimosa". The album starts with these epic songs and founds the mood for this CD. We can hear similar hard hitting songs deeper into the tracklist, but some relaxing songs are also worked into the mix like "Diem Ex Dei" or the aria like "Madre Terra". As I mentioned Goren's goal was to reach a wide audience, and take the genre into the mainstream. He succeeded in achieving this with the pop-like songs "Orchard of the Mines", "Take Me Away" or "Europa". But Epicon shows that trailer music can be a cohesion of many musical styles from all around the world. This album would not be complete without the spanish guitar of "Crusaders of Light" and "La Coronatión", or the female african tribal choir of "Spiritus Khayyam". The album is refreshingly eclectic not just in orchestration but in language as well. The lyrics of the choir are usually written in latin, but the entire lyrics of some pieces are latin too: like "Diem Ex Dei", "Madre Terra" or "Preliator". For anyone with sharp ears, or for anyone who is french, one can discover french phrases as well.
Beside language the songs on Epicon cover a wide array of topics and themes. Most songs have some kind of spiritual meaning. The songs tells the story of god, heaven, stars, the motherland, prayer, and heroic courage. Other topics appear as well. The history of Europe is listed out in the rousing "Europa". Sometimes it's tough to find meaning in the pieces; for example in the heroic speech of "Take Me Away" or the cryptic and mysterious expression of love in "Orchard of Mines". However, these pieces are still so emotional and intense, that it doesn't matter. Its uniqueness is lovable and makes it very enjoyable.
I can mention only one critique – which in fact is not really a negative critique. When the album was released in 2006, it surprised the fans. When Immediate Music first announced that some of his music would be available for the public, everybody expected that a simple collection from the companies' musical library. However Yoav Goren and the others released a brand new album and started the Globus franchise. Goren decided to break new ground with Globus. And they were right to. Globus brought trailer music much closer to many people.
The sonority of Globus in this form is not unique. Nightwish or Evanescence also preformed their songs with choir and orchestra, and in a style very similar to Globus' music. That's why I wouldn't call it a creator of style. However Globus as a band found its own sonority and defined it while drawing from a wide range of musical styles. As a result, Globus' sound can bring a lot of surprises, but there is still the foundation of trailer music that we all have come to know and love. Goren typified this music as "cinematic rock"7, though the lately propagated "epic rock" is much more expressive and cooler. And it is right that we can call Globus the rock star of scores.
We can see that Globus has a long history and extremely talented people stand behind it. The recipe of Globus was simple: combine trailer music with other styles and elements. Its significant because it brought trailer music to a much wider audience under its own name "cinematic rock". Fans can now say that Globus is their favorite band, which sounds much cooler and better for a layman than saying trailer music.
To conclude, I will enlighten the personality of Yoav Goren who always talks enthusiastically and ingratiatingly about Globus and this entire topic. His groundbreaking work in trailer music makes him a perfect idol for this emerging segment of the musical world. And so I end this article with his words: "I am excited that new audiences will be able to experience this music in the same way that I did when I was a kid. Back then it was magic for me and I know it will be magic for audiences worldwide as well."8
---
1. Read more here: http://en.wikipedia.org/wiki/Trailer_music
2. http://www.hollywoodreporter.com/hr/searc/article_display.jsp?vnu_content_id=1001479709
3. More examples of usage of Immediate Music's songs here: http://www.soundtrack.net/trailers/composer-trailer.php?id=1047
4. In many cases the trailers are not edited by the studio, but outsourced to companies those dedicated themself to do these jobs.
5. Trailer Music Live is a series of concert which features Globus, and other compositions by Immediate music. The first event was held 27th July 2009 in Santa Monica (Los Angeles). The "zeroth" concert is considered Globus's first performance at Wembley. For more info visit the homepage of the event: http://www.trailermusiclive.com/
6. All contributors are listed on the official page: http://www.globusmusic.com/
7. http://www.streamingsoundtracks.com/modules.php?name=Interviews&action=showinterview&id=1
8. http://www.youtube.com/watch?v=56zK6N1pVXY